Read Time:
1 Minute, 39 Second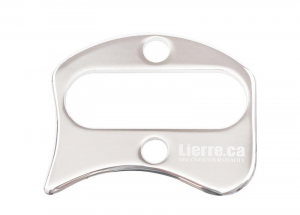 Convenient and portable, Lierre's G Shape Stainless Steel Gua Sha is a must-have scraping tool for chiropractors, sports injury therapists and massage therapists. Similar to natural stone gua shas, its size is ideal for targeting medium to smaller body parts.

Using the large hole in the center for grip support, you can apply stronger pressure when gliding the stainless steel gua sha. This helps sports injury and massage therapists smooth out all muscle knots.

Before using the gua sha, prep the skin with a massage gel or oil.

Wipe your hands after with a towel or cloth to get rid of excess oil on your hands. Although optional, this step helps prevent slipping your grip on the gua sha while scraping, allowing a more firm grasp of the tool.

The G shape gua sha's curved shape allows you to give equal amount of pressure on body areas that have a curve as well. You can use this product on your patient's arms to their nape.
Made of medical-grade stainless steel, the scraping tool is also great for targeting small areas as well. You may not notice it at first, but the G shape tool has a pointed tip that is great for a more specific trigger point massage.
The pointed end can be used on areas near the back of your patients' ear and neck, which helps significantly relieve headaches and migraines while also giving them an ASMR experience. It replicates the pressure of your thumb, but requires less strain from your hands and fingers.
A second method is to anchor the curved corner on your patients' lower back, while having the pointed end aligned with the spine. Using the curved end as leverage, you can swipe the pointed end in a fanning motion while gradually dragging the scraping tool upward.
Exclusively sold online at Lierre.ca, you can buy the G Shape Stainless Steel Gua Sha Scraping Tool here or in stores!