Read Time:
2 Minute, 48 Second
Gua Sha facials are becoming very popular because of their many benefits. Besides being aesthetically pleasing and made from beautiful crystals, they are extremely beneficial to our health and well-being. However, it is important to be careful when purchasing a Gua Sha to make sure you are paying for a real stone. 
What is a Gua Sha Facial?
A Gua Sha facial consists of using a Gua Sha tool to scrape the face and neck, or the body, to remove dead tissue cells and promote tissue drainage. Despite the posts you may see online of red marks and bruising, a Gua Sha facial is actually much lighter and less aggressive.
What are the Benefits of a Gua Sha Facial?
Using a Gua Sha can provide your skin with many benefits, as well as promote positive energy. Some external benefits include increased blood circulation, relieves tension in the face, and promotes lymphatic drainage. Using the crystal to press on the skin and glide in a downward motion causes the skin to turn red, which means the blood is flowing. This is what helps breaks down the fascia which can cause a build up in the skin tissue. This causes increased circulation which gives your skin a beautiful glow. The Gua Sha can also help to relieve headaches and migraine pain. By pressing the Gua Sha on the eyebrows, nose, and even the neck, can relieve built up tension in these areas. Massaging it with a Gua Sha can remove this tension and ease any pain you may experience from a headache.
Using different crystals can also impact your energy and promote healing as well. If you use a Jade Gua Sha, this can provide you with good luck, prosperity, and health. If you purchase and use a Rose Quartz Gua Sha, this help you manifest emotional stability, harmony, and love.
How to Give Yourself a Gua Sha Facial
Make sure you wash your Gua Sha with slightly warm water and face soap before using. Then pat dry with a towel.
Before using your Gua Sha, you can apply beauty oil of your choice so that the Gua Sha glides easily. The oil will also be absorbed well into the skin by using this tool
Start by taking your Gua Sha and gliding it away from your face. If you use it on your neck, you can glide it upwards or downwards, as long as it's in one direction.
Massage your face for about 15 minutes, until you feel satisfied with how you feel and your results. If you feel any discomfort or pain, stop using the Gua Sha.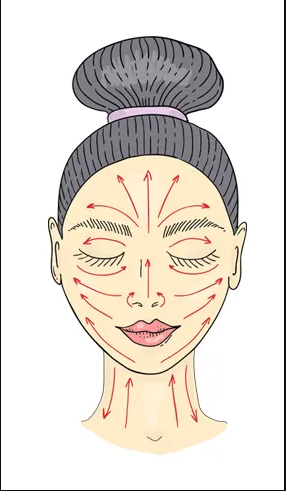 Why You Should Give Gua Sha a Try
As previously mentioned, using a Gua Sha can promote blood circulation, lymphatic drainage, and decrease puffiness in the face. The type of stone you use can also make a difference when you use it, as it can promote emotional and spiritual healing. Lierre.ca has so many incredible Gua Sha tools available to help you feel and look your best.
On November 29th, Lierre is having a massive Black Friday sale. You can receive 80% OFF on selected products such as household supplies, acupuncture needles, silicone cupping sets, beauty, and more.