Read Time:
2 Minute, 14 Second
Ancient medicine is the new thing nowadays and looking where to buy acupuncture needles can be a difficult task. Acupuncture therapy is a niche itself that not many people have information about unless they've studied the practice itself or alternative medicine.
Lierre.ca is Canada's most trusted website for acupuncture needles, as well as for massage supplies, cupping sets and clinical office supplies.
ShinLin
ShinLin acupuncture needles are the most popular acupuncture needle brand. The spring handles do not discolour or rust because its entirely made of surgical grade stainless steel, a material commonly used for ear piercings to prevent infection. Starting from $4.50, these Korean-style needles is the most affordable acupuncture needles among other the other brands sold at Lierre.ca.
Acu Relaxo
Are some of your customers allergic to silicone? Acu Relaxo non-coated acupuncture needles are made of stainless steel with a loop-tipped copper handle.
Its German stainless steel is known for being of the highest quality. Acu Relaxo silicone-free acupuncture needles are also hypoallergenic and individually packed to ensure maximum sterilization. These needles have colour-coded tabs but Acu Relaxo also carries tab-less acupuncture needles.
Zagu
Zagu's stainless steel acupuncture needles are another acupuncturist favourite. Before distribution, these acupuncture needles go through heavy verification, making sure no needles are defective before use.
Futhermore, Lierre.ca always check and confirms if the acupuncture needles follow ISO13485, FDA and CMDCAS quality standards, meaning that their needles fit the international quality standard for medical devices.
Zagu acupuncture needles are stainless steel, hypoallergenic and is attached to a copper handle with a looped-tip. Does this remind you of something? Well, that's because Zagu is changing to Acu Relaxo this year. But, don't worry! They're the same product but in a different box.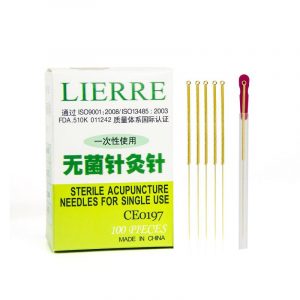 Lierre
Yes, Lierre.ca has their own line of acupuncture needles! Unlike the surgical grade stainless steel needles mentioned from previous brands, Lierre carries acupuncture needles plated with 24k goal. They have the traditional Chinese-style handles, meaning it has a loop at the tip of the handle, and individually packaged for single use.
All of Lierre's acupuncture needles are sterilized and hypoallergenic, which is ideal for potential customers who are afraid to get an allergic reaction. These golden acupuncture needles are also great for facial acupuncture.
There's a variety of sizes and brands to choose from, but shopping for acupuncture needles has never been easier than ever before with Lierre.ca. You can select the diameter and length before adding it to your cart, order them in singles or bulks, the choice is all up to you!