Reef safe sunscreen has been an up and coming subject because of the noticeable coral damage retail sunscreens have caused in recent years. For those who need help understanding what sunscreen ingredients to avoid and why, you're at the right place.
Reef safe sunscreens are usually packaged in eco-friendly containers and contain organic, cruelty-free ingredients
The goodness found inside the sunscreen can be said for the outside as well. Reef safe sunscreens are usually packaged in bio-degradable containers to make less waste. The principle of reef safe sunscreen is to help better the living ecosystem in beaches and oceans.
Millions of sunscreen are being sold every year. With that in mind, bio-degradable packaging will help improve our plastic waste crisis in the long run.
Since companies of reef safe sunscreens aim to protect coral life, they also tend to support cruelty-free cosmetics and carry sunscreens that are not harmful to the environment and its ecosystem. The Green Beaver Company's Natural Mineral Sunscreen SPF 40 and Derma E's Natural Mineral Oil-Free Sunscreen SPF 30 are both a popular choice for cruelty-free non-nano reef safe sunscreen.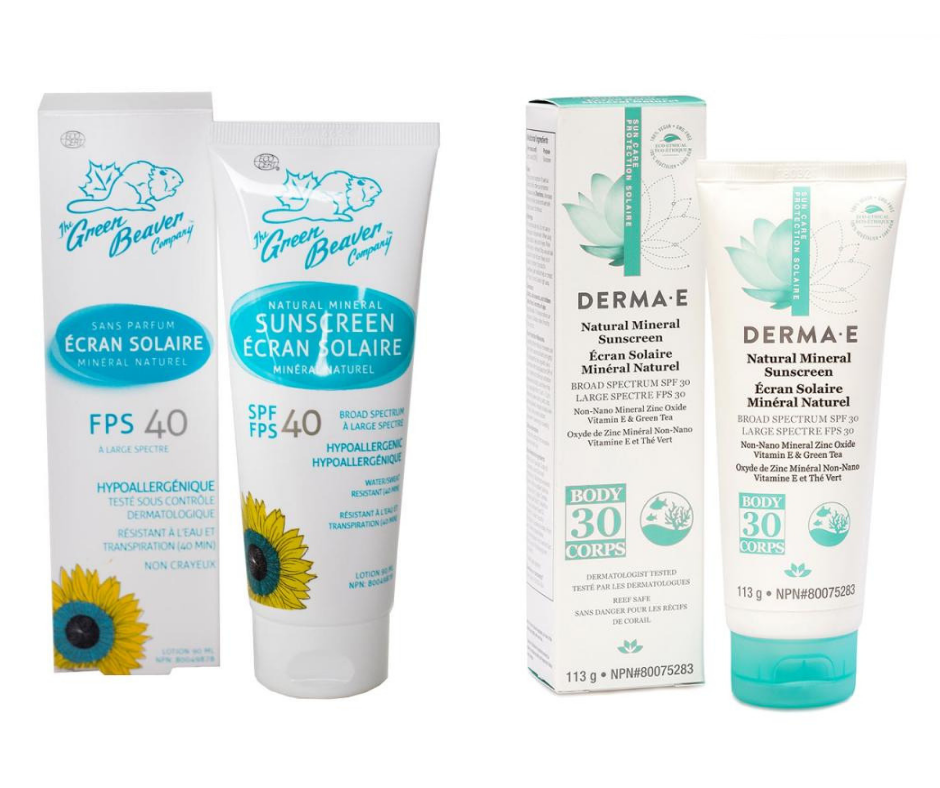 They have no oxybenzone, no octinoxate, therefore no chemical filters as active ingredients
Reef safe sunscreens do not contain the toxic chemical filters, a rare feature that is hard to find in most sunscreens from retail stores.
So, why is oxybenzone bad for you?
This is the active ingredient that directly contributes to the active destruction of coral reefs worldwide. Scientific studies showed that sunscreens with oxybenzone cause coral bleaching and DNA damage to their kind. The effect it has in their genetic code interrupts the corals from maturing, therefore causing their species to die because they aren't fit to reproduce nor to survive their natural habitat for long.
Oxybenzone is the most harmful ingredient found in sunscreens. They also affect the human body and its hormonal system. It is scientifically considered an estrogen activator, meaning that it may cause anti-androgenic effects and disrupt testosterone production.
This chemical ingredient is also bad news for pregnant women, as studies showed traces of oxybenzone in breast milk. Furthermore, oxybenzone has shown long-term negative effects on the babies of mothers who used sunscreens with oxybenzone while pregnant. The child can grow to have hormone production issues later on as a teenager or adult.
How about octinoxate?
Just like oxybenzone, octinoxate causes similar effects, but in a lesser degree. That does not mean that its impact is insignificant seeing as millions of sunscreen bottles are sold per year.
Both chemical ingredients has been commonly found to create harsh skin irritation and cause allergy reactions.
What ingredient should I look for when buying sunscreen?
The best active ingredient to find in sunscreens is zinc oxide. It is the the most stable chemical UV filter, meaning that it offers your skin complete protection against the sun without irritating it or causing redness.
Derma E's Facial Sun Defence Sunscreen contains 20% of zinc oxide. Another great feature about Derma E's sunscreen is that it leaves no white cast on your face and blends seamlessly into your face.
Zinc oxide is ideal for people with acne prone or sensitive skin. The ingredient alone is used for speeding the healing process of wounds, burns, rashes and irritated acne. In addition, zinc oxide helps prevent signs of aging such as wrinkles and fine lines while shielding your face from outdoor pollution and free radicals that causes skin cancer and collagen damage.
Looking for a fragrance-free, cruelty-free and reef safe sunscreen for the summer? Visit Lierre.ca's sunscreen page to find the right sunscreen that fits your skin type and lifestyle!